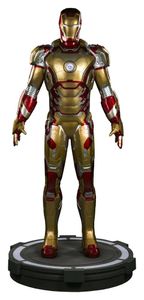 Meer Sideshow Collectibles in Actiefiguren
Iron Man 3 Life-Size Statue Iron Man Mark 42 21...
Sideshow is proud to present the Iron Man Mark 42 Life-Size Figure, based on Tony Stark's sleek and vibrant suit from Iron Man 3. Also known as the Autonomous Prehensile Propulsion Suit or the Prodigal Son, the Mark XLII stands over 215 cm tall on an illuminated base. The fiberglass and plastic suit also includes light-up features in the eyes, palm...
Snel naar
PrijzenProductomschrijvingProductspecificaties